Surface finishing, grinding and cleaning systems
Apes Srl is a highly experienced company, present in both the Italian and international markets. We have always dealt with the design, construction and supply of industrial systems and automation and in this article we will provide you with some more information on our systems for sheet metal and metal processing.
We create single machines, complete lines and robotic islands for surface finishing, in particular systems for grinding and cleaning stainless steel sinks, entirely designed and built turnkey. It is the market itself that over the years has asked us to create surface finishing, grinding and cleaning systems as a complement to welding operations.

Apes' production has always been tailored to customer needs and our systems meet the highest quality standards required.
We produce single units and complete lines, for the household appliance sector, in particular for the production of any model of stainless steel sink, completely controlled by CNC numerical controls. Automatic machinery is equipped with brushes and/or belts that perform the mechanical finishing operations. Depending on customer needs, our cleaning systems can be equipped with automatic brush change systems and related brush supply buffers.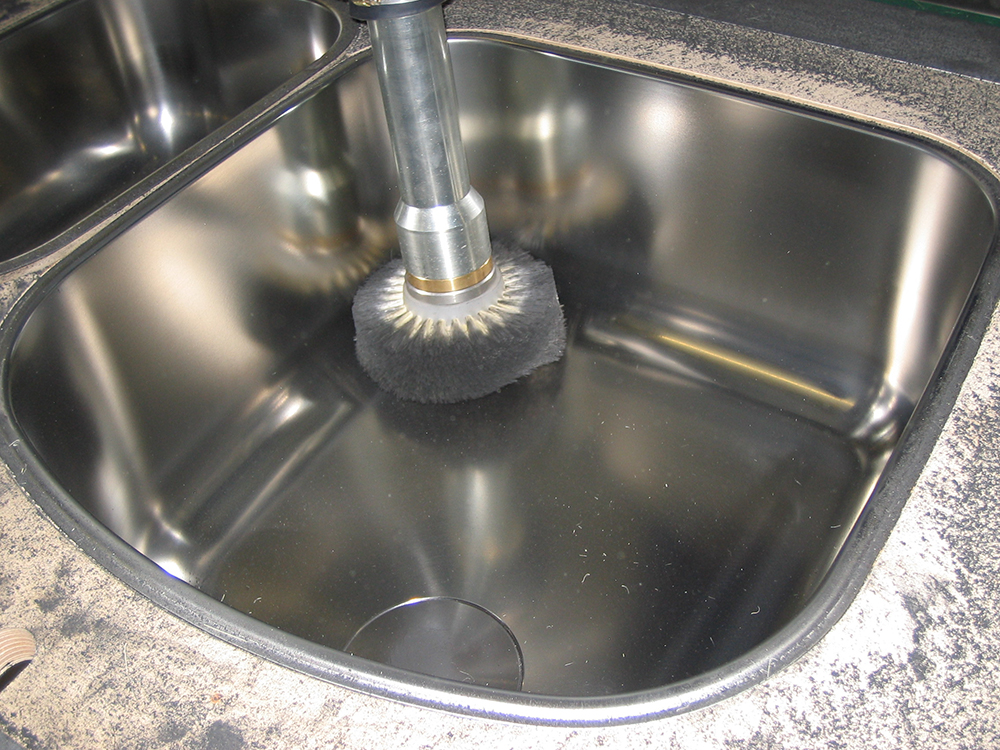 Finishing metal surfaces: grinding
Among the mechanical processes for the surface finishing of metals there is therefore grinding. This is one of the first processing phases: sharp edges, burrs or casting, molding or welding residues are eliminated from the sink. Through the Apes Srl grinding systems, processing is carried out using abrasive belts and flap wheels, initially in coarse grains and then increasingly finer, until the desired level of surface roughness is obtained.
The result is a product with a uniform surface, different depending on the type and subsequent finishing for which it is intended which could be, for example, cleaning, polishing, satin finishing.
Metal cleaning
Apes Srl creates and supplies its customers with systems, automatic and semi-automatic machines for cleaning and polishing any metal surface. The machines can be single or complete lines where each unit performs a specific cleaning process with a dedicated brush.